30 Seconds To Mars offentliggør planer om nyt album
Warning
: preg_match() [
function.preg-match
]: Compilation failed: invalid range in character class at offset 4 in
/var/www/shoutoutmusic.dk/public_html/wp-content/plugins/lightbox-plus/classes/shd.class.php
on line
1384
Warning
: preg_match() [
function.preg-match
]: Compilation failed: invalid range in character class at offset 4 in
/var/www/shoutoutmusic.dk/public_html/wp-content/plugins/lightbox-plus/classes/shd.class.php
on line
1384
Warning
: preg_match() [
function.preg-match
]: Compilation failed: invalid range in character class at offset 4 in
/var/www/shoutoutmusic.dk/public_html/wp-content/plugins/lightbox-plus/classes/shd.class.php
on line
1384
Warning
: preg_match() [
function.preg-match
]: Compilation failed: invalid range in character class at offset 4 in
/var/www/shoutoutmusic.dk/public_html/wp-content/plugins/lightbox-plus/classes/shd.class.php
on line
1384
Warning
: preg_match() [
function.preg-match
]: Compilation failed: invalid range in character class at offset 4 in
/var/www/shoutoutmusic.dk/public_html/wp-content/plugins/lightbox-plus/classes/shd.class.php
on line
1384
Warning
: preg_match() [
function.preg-match
]: Compilation failed: invalid range in character class at offset 4 in
/var/www/shoutoutmusic.dk/public_html/wp-content/plugins/lightbox-plus/classes/shd.class.php
on line
1384
Warning
: preg_match() [
function.preg-match
]: Compilation failed: invalid range in character class at offset 4 in
/var/www/shoutoutmusic.dk/public_html/wp-content/plugins/lightbox-plus/classes/shd.class.php
on line
1384
Warning
: preg_match() [
function.preg-match
]: Compilation failed: invalid range in character class at offset 4 in
/var/www/shoutoutmusic.dk/public_html/wp-content/plugins/lightbox-plus/classes/shd.class.php
on line
1384
Warning
: preg_match_all() [
function.preg-match-all
]: Compilation failed: invalid range in character class at offset 4 in
/var/www/shoutoutmusic.dk/public_html/wp-content/plugins/lightbox-plus/classes/shd.class.php
on line
700
Warning
: Invalid argument supplied for foreach() in
/var/www/shoutoutmusic.dk/public_html/wp-content/plugins/lightbox-plus/classes/shd.class.php
on line
707
Warning
: preg_match_all() [
function.preg-match-all
]: Compilation failed: invalid range in character class at offset 4 in
/var/www/shoutoutmusic.dk/public_html/wp-content/plugins/lightbox-plus/classes/shd.class.php
on line
700
Warning
: Invalid argument supplied for foreach() in
/var/www/shoutoutmusic.dk/public_html/wp-content/plugins/lightbox-plus/classes/shd.class.php
on line
707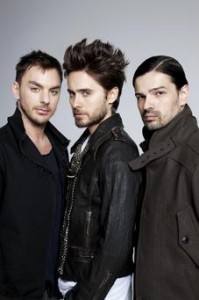 Det amerikanske band, har annonceret at de er i fuld gang med at arbejde på deres fjerde studiealbum, som skal opfølge deres hit album fra 2009 "This Is War". Det nye album er ifølge forsanger Jared Leto "en dramatisk afgang fra fortiden" og kommer til at indeholde mere orkester, det bliver mere fortællende, interaktiv og mere elektronisk end de tidligere projekter.
Jared Leto vil endnu engang producere albummet med en lang række talentfulde producere som Steve Lilywhite (U2, The Killers). Trioen arbejder i deres studie i Hollywood Hills, som er døbt "ICAASS" (International Center for the Advancement of the Arts and Sciences of Sound) eller også bare "The Lab" for at gøre det nemmere. Udover dette har de også indspillet i Indien, Afrika, Yosemite, Californien og Europa. Jared har talt med Rolling Stones om det kommende album samt det teknologiske eventyr "VyRT" som kan læses her (på engelsk).
Bandet har planer om at relancere deres succesfulde event "The Summit". Det er planerne at "The Summit 2.0" skal lanceres som en app, som giver muligheden for at fans kan blive en del af deres liveindspilning gennem facebook, twitter og den nye teknologiske platform VyRT.
I december 2011 fejrede 30 Seconds To Mars de sidste koncerter, som foregik en hel uge i New York City. Dette event blev kaldt "MARS300" for at fejre at de har spillet 300 koncerter. De blev på sidste dagen hædret af Guiness Rekord Bog, for at have spillet flere koncerter end noget band nogensinde har gjort efter at et album har været i cyklus. Fans rundt om i hele verden havde mulighed for at deltage i denne begivenhed, da de kunne købe en "Golden Ticket" gennem VyRT.net, som gav dem adgang til en interaktiv live udsendelse.