Søren Andersen og Mika Vandborg udgiver fælles album
De er begge kendt i andre sammenhænge – Søren som guitarist for blandt andet Marco Mendoza, Glenn Hughes og hedengangne Kick the Kangaroo, og Mika som guitarist for Love Shop, Gnags og Dicte – og nu er de sammen aktuelle med en ny plade, under titlen: Electric Guitars.
Tidligere har de turneret med deres show: Guitar Event, og man må formode deres guitar-madness forsætter på denne nye plade. De har i hvert fald gjort hvad de kunne for at lade pladen gå over i historien. Blandt andet har de inviteret ingen ringere end Tim Christensen, Mikkel Nordsø, Jacob Binzer, Per Møller, Poul Halberg, Uffe Steen, Billy Cross, Jens Runge, Aske Jacoby, og ikke mindst Franz Beckerlee med på pladen. Ikke blot er de inviteret med, de er også medvirkende på det samme nummer.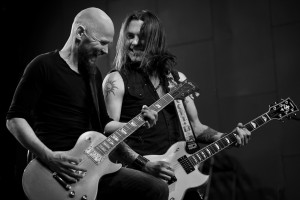 Det er ikke blot ti tilfældige guitarister de to musiktosser har inviteret med i studiet, de har alle betydet noget for Søren og Mika gennem tiden. "Vi kunne have valgt mange, men vi blev enige om nogle dogmer om, at de f.eks. skulle have betydet noget særligt for os. De skulle have haft en effekt på os, og vi skulle begge have haft en oplevelse med dem", forklarer Mika Vandborg om udvælgelsen.
Resultatet er et ti minutters langt nummer, hvor samtlige guitarister spiller solo en efter en. Albummet udkommer 9. december på Target Records. Hvis det ikke er nok guitar, så kan Søren og Mika også opleves rundt om i landet, på deres tour i forbindelse med pladen. Du kan se planen nedenfor, eller læse mere på www.electricguitars.dk.
Tourneplan
08.08.13 – Smukfest – Skanderborg
01.09.13 – Otto Krabbes Plads – København
12.09.13 – Fatter Eskil – Århus
13.09.13 – Cafe Frederiksberg – Ålborg
19.09.13 – Tobakken – Esbjerg
20.09.13 – Pavillonen – Grenå
25.09.13 – Godset – Kolding
27.09.13 – Harders – Svendborg
28.09.13 – High Voltage – København
Tracklist
Four Leaf Clover
Break It Up
So Far Away
Easy Way Out
Spotlight
Never Mind The Dog
You're On Fire
Ronnie
Elevator Blues
Baby I Love You
Horsefly
Hero Of Mine (Solo 1: Mika Vandborg, Solo 2: Søren Andersen, Solo 3: Per Møller, Solo 4: Poul Halberg, Solo 5: Billy Cross, Solo 6: Jacob "Cobber" Binzer, Solo 7: Tim Christensen, Solo 8: Franz Beckerlee, Solo 9: Uffe Steen Solo, 10: Jens Runge, Solo 11: Aske Jacoby, Solo 12: Mikkel Nordsø.)